The Rock 7 Core system, is the online management system for your RockBLOCK. You can view messages sent from your RockBLOCK, send new messages as well as update your Endpoints for message delivery. It's all very simple, but here is a quick overview…
After logging in you'll be presented with a navigation menu on the left hand side, if you've got multiple RockBLOCK (as I do) you may have multiple devices/groups shown. Expand the menu until you can see your RockBLOCK (mine's called RockBLOCK 8801).

Clicking on the "Cog" icon against your device will bring up a menu; to view messages sent from your RockBLOCK, click on "Rock Block MO Messages" (MO means Mobile Originated according to Google).
On the screenshot below, you can see the the messages i've sent from my RockBLOCK (including the message payload – shown in orange).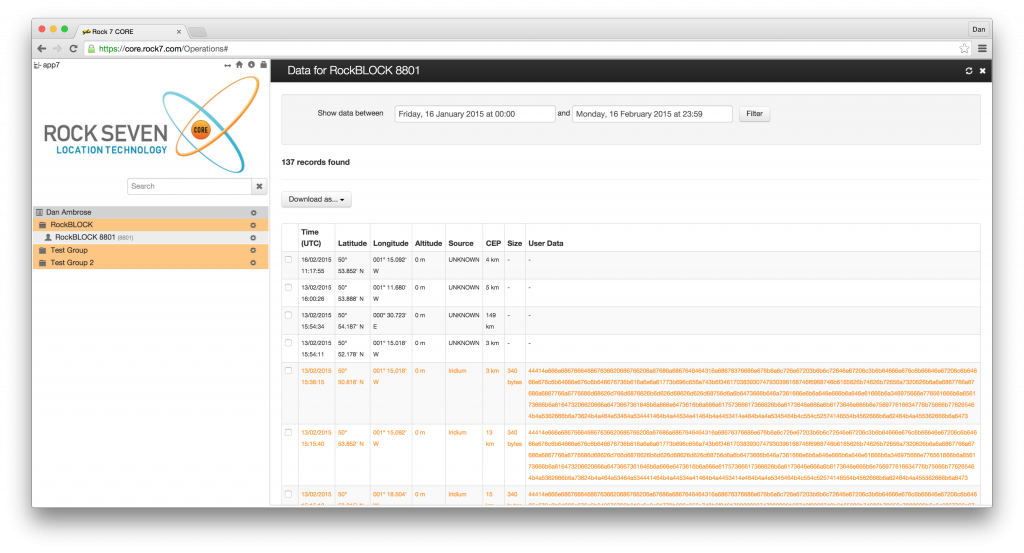 Clicking on the "Send RockBLOCK MT Message" from the Cog menu, will enable you to send messages to the RockBLOCK (MT = Mobile Terminated).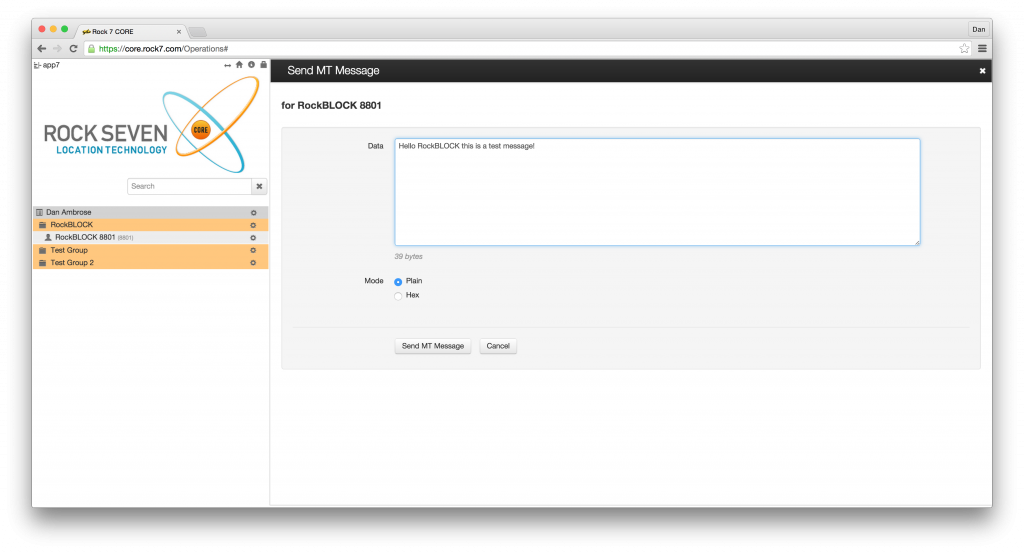 Pressing the "Submit MT Message" button will immediately queue your message with the satellites ready to be downloaded by your RockBLOCK next time it checks for messages.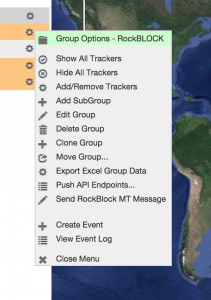 As well as viewing your messages in the Core, you can arrange for them to be automatically dispatched to a web-service (via HTTP POST request) or sent to an e-mail address. To configure your "Endpoints", click the Cog icon on your "Group", not your device – so on this screenshot my Group is called "RockBLOCK".
Click on the option that says "Push API Endpoints".
You can then enter your Endpoint address (you can have as many as you like). If you provide a URL, when a message is received from the RockBLOCK, it will be HTTP POST'ed to your server, along with details of the device and when the message was sent – full details, including parameter names are available in the official web-service documentation. Alternatively, if you select an e-mail address, the message will be automatically sent to your e-mail address, with the message payload included within the body of the e-mail, as well as an attachment.